Place, Stories and Making Connections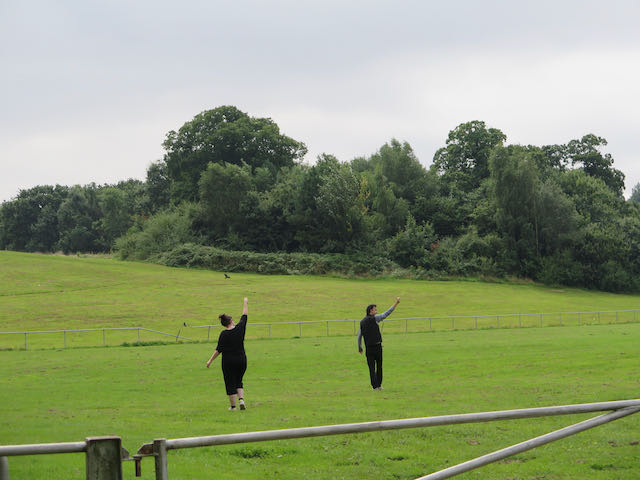 Hello/Shwmae!
My name is Callum Lloyd, I'm an actor and writer from Rumney, Cardiff.
I recently participated in Common Wealth's two-day exploration of Cardiff East with the collaborative duo Crab & Bee (Phil & Helen).
It was a fantastic two days full of walking, creativity and inspiration. At the start of the first day, we each made clay model heads, which you can see a photo of below.
Mine resembled a sort of jellyfish-like creature!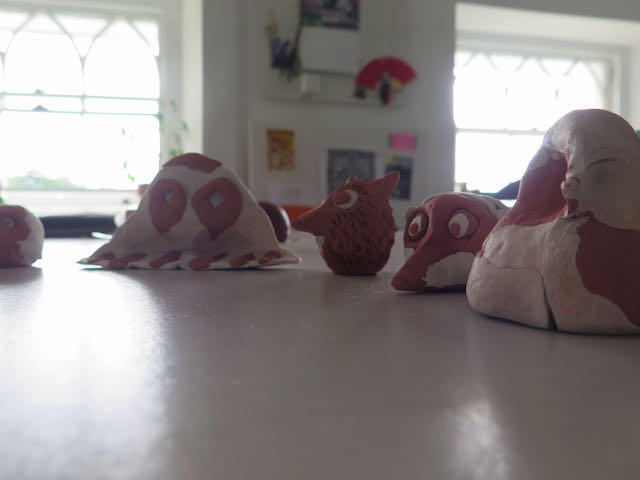 Helen set us with a task in pairs to walk holding a piece of string between us, keeping an equal distance whilst making sure the string is tense. Quite a challenge! We walked to the hill by Llanrumney Hall and took in the magnificent views of the area. It really put things into perspective and made me appreciate the area in a new way.
Later, we set off on individual treks. Our mission was to try to get from Llanrumney Hall to St. Mellons, but we only had 40 minutes in which to do so. We were each given a cloth with a little cog on it, and had to throw it when we reached a part of the walk that motivated us to do so, for whatever reason. Safe to say, none of us quite made it as far as St. Mellons, but it was still an adventure. I ended up getting to the Llanrumney shops, before turning back. I got a little lost on the way back (all the streets looked the same), but observed two houses had Christmas decorations up, which was a welcome surprise.
In the afternoon, we reconvened as a group for a walk around both old and new St. Mellons. It was a refreshing, meandering walk, and we got lucky with the sun coming out. A personal highlight for me was going to the St. Mellons Parish Church and learning about the local history of the area and Llywelyn the Great. It made me feel sad I'd never learnt about any of this at school. The views from the church were breathtaking. You could see right out to the sea!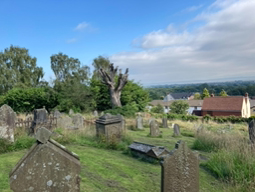 We each had pieces of string, which we could tie on objects which interested us, as you can see in the photo below.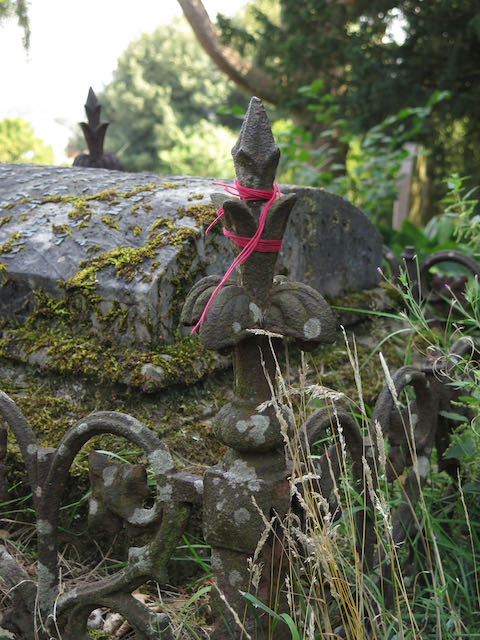 Day 2 brought with it a walk to the sea wall. We set off early in the morning from Tesco St. Mellons and the whole walk took us about 3 hours in total. We passed through a local village, which has a stone plaque commemorating the Great Flood of 1607, where sadly lots of people lost their lives.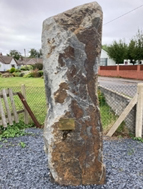 We passed pylons, geese, dogs, and cars, before eventually reaching our final destination – the sea wall. I'd been there before when I was younger, but it still filled me with a sense of awe. The view, the smells, the coastline. It was a bit overcast, but we were still able to see out and spot some of the little islands and cities across the sea.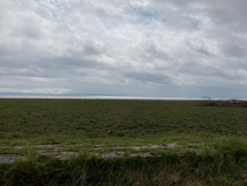 I spotted smoke rising nearby from a small fire which had happened the night previously. Breathing in the sea air made me somehow feel connected to the sea and the environment. I felt lucky to have this on my doorstep, and a determination to visit more frequently.
We stopped for lunch whilst Phil and Helen told us about their previous trip here and the different route they took.
On the way back, we went the same route, but the familiar suddenly seemed unfamiliar because I was noticing different things I hadn't noticed on the way there.
When we arrived back at Llanrumney Hall, we returned to our clay model heads from the previous day and were tasked with creating bodies for them! I would draw a torso, then fold the paper over and pass to the next person, who would draw the legs and so on and so forth – by the end we were all left with some quite striking looking figures, which you can see below.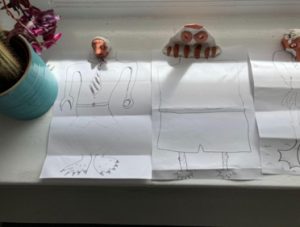 Finally, we were treated to a tour of the Llanrumney Hall cellars, which once housed long, winding tunnels for merchants to smuggle goods they didn't want to be taxed on.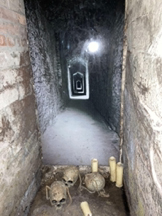 Phil told us all about Captain Morgan and the Morgan family. There's even a model of the Captain himself in the cellars – he's quite lifelike, I have to say!
Back in the day, the hall would have been quite the hub of activity, with the Morgan family at the heart of the action. It's lovely to think all these years on, it's still thriving as a place where the local community can come to learn, grow plants and vegetables, and form friendships.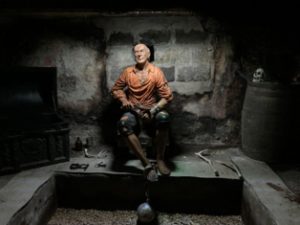 For more on Crab & Bee: https://www.theboxplymouth.com/past-projects/state-of-emergency-micro-commissions/crab-and-bee
Find out more about Common Wealth's workshop "Everyone is an Artist: Place, Stories and Making Connections"