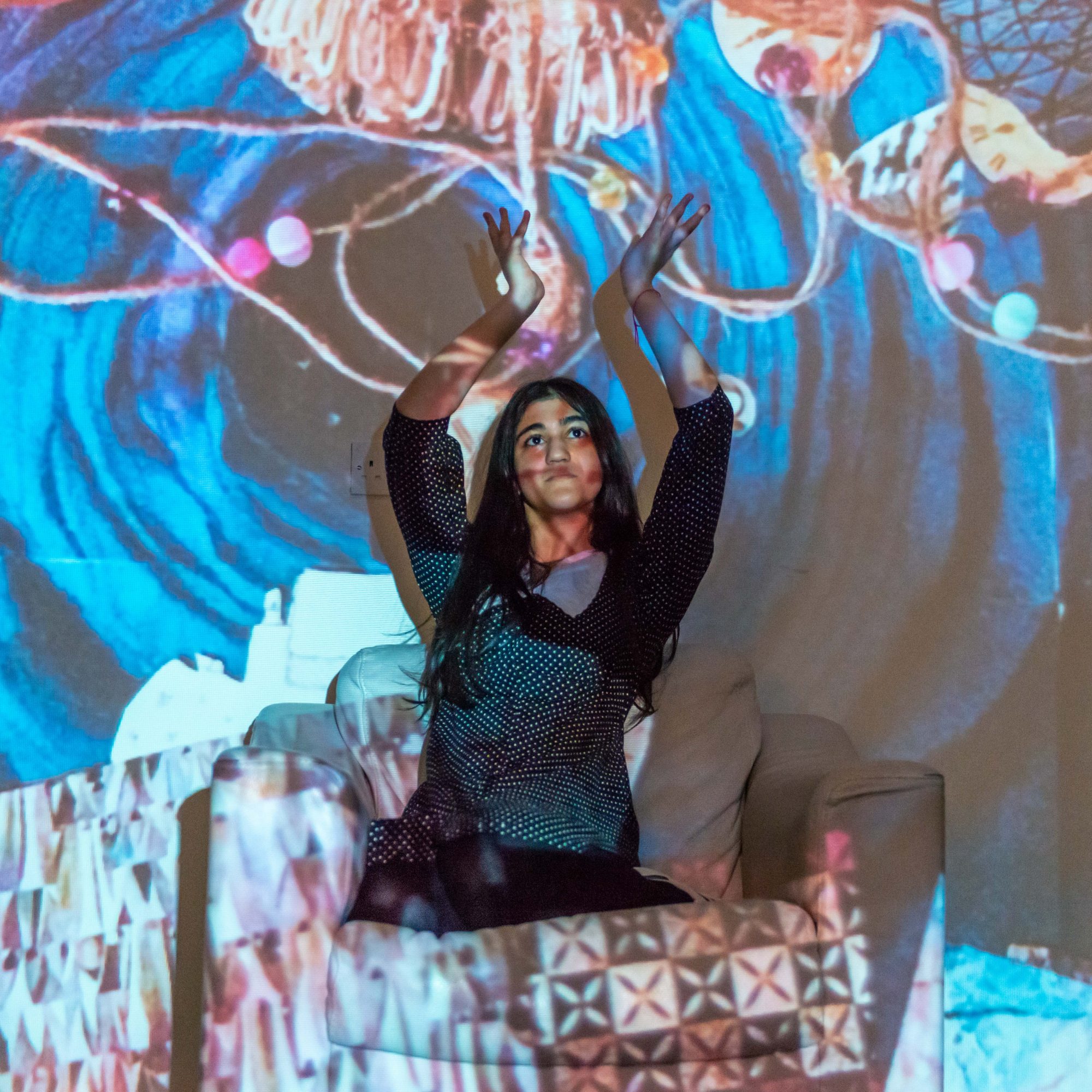 Off the Curriculum
Info
Off the Curriculum
Off the Curriculum is a giant immersive installation that explores subjects not taught in school through art forms not taught in school. Throughout 2022 we worked with 200 children and young people to design installations and sets, creating an immersive world where learning is reimagined. 
17 rooms have been transformed in our building Common Space, pairing subjects and art forms such as time travel & jewellery, capitalism & graffiti, self care & pottery and much more. For our opening festival the building was animated with shadow puppetry, pottery smashing, specially commissioned DJ sets and young people leading debates.
How can school be different? Should kids lead the curriculum? What do we learn and why?
Leeds 2023 - Primary school project
In partnership with LEEDS 2023 Year Of Culture we worked with six primary schools to deliver a bespoke version of Off the Curriculum. The children chose their own topics and worked with experts and artists of different disciplines.
"How do names of countries get decided? What if money didn't exist? How do we improve mental health? Why did racism start?"
The questions were profound, the children demonstrated a complex understanding of the world and how Leeds fits into the global landscape. The artists introduced rap, live animation, screen printing and projection to explore the chosen topics.
Download our Off The Curriculm – Teaching resource to try the process in your own setting.
Hear more from the children of Leeds in this short film.
Read about the project in this blog post.
Credits
Designed by Musa, Remy, Scout, Coran, Zunaira, Zohaad, Reuben, Remi, Abigail, Jeremiah, Prue, Piper, Lily, Shifa, Rayyan, Scarlett, Abdul, Delia, Austin, Darcy, Aneesha, Nimrah, Habia, Humna, Noor, Amina, Aisha, Darisha, Sehrish, Zara, Laiba, Zaima, Rumaanah, Aishah, Anam, Saria, Safah, Eliyana, Aisha, Khadeejah, Macey, Savera, Jess, James, Noor, Axel, Becca, Fatima, Amina, Junaid, Khadija, Ameeliah, Safa, Lubabah, Aisha, Fareeha, Tori, Iman, Zeesth, Aaliya, Aaminah
Built and brought to life by Matt Sykes Hooban, Michelle Wren, Cathy Cross, Hannah Sibai, Warda Abbasi, Tom Woodland, Naomi Parker, Robbie Thomson, Jamie Greir, Mariam Rashid, Sai Murray, Andy Purves, Hew Ma, Eleanor Barrett, Aamta-Tul Waheed, Trik 09, Kazem Ashourzadeh, Sally Storr,  HIVE Bradford, Jack Lynch, Ben Holden Ross Elliott and All Star Entertainment
Produced by Common Wealth team May McQuade, Ezra Nash, Evie Manning, Mariyah Kayat, Saoirse Teale and Emma Ratyal Brooks
Funded by The Leap, Arts Council England and Bradford Council
ACCESS & FAQ's
Access
Touch tours, and BSL interpretation are available. The exhibition is on the ground floor and is wheelchair accessible at ground level. Disabled toilets are upstairs and – although the lift is working – it does not meet modern wheelchair size requirements. There are accessable toilets within Oastler Market (the same complex as us). Please be in touch with any access questions to Saoirse, [email protected]
Do you have refreshments in your space? There are no refreshments available and we will ask people to refrain from eating/drinking in the installation areas.
Are there any toilets available? Toilets are available upstairs, an accessible toilet is upstairs via a lift which unfortunately does not meet modern wheelchair requirements. Fully accessible toilets can be found in Oastler Market (within the same complex). Please ask our staff for directions if you are not familiar with the area.
How long do you recommend is the suitable time to explore the installations? We suggest up to 1-2 hours as there are different interactive elements involved
Is there any space for bags/coats to be stored during my visit? We do not have a cloakroom and will ask you to keep your possessions with you.