Speakers Corner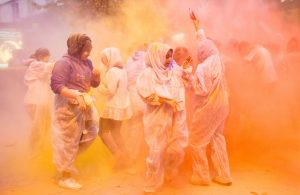 Speakers Corner is a creative, political social space in Bradford City Centre led by a collective of women and girls with events open to everyone. All our events are aimed at bringing people together to create positive action.
Be a part of the collective:
Being part of Speakers Corner Collective means coming together with other like-minded people and having a safe space to speak about pressing issues, build confidence and develop networks and opportunities across Bradford. We have an active presence in the community through our campaigns, events and discussions. We meet every Monday 4-6pm to plan campaigns and programme events, workshops and discussions.
Come down to an event:
Thursday 23rd November – Free Palestine. Marking 100 years of the Balfour Declaration with a skype to young people in Palestine.
Saturday 16th December – I Am Perfect As Me festival, for young people, with discussions and workshops on body confidence, family barriers and mental health. Followed by performances, poetry and open mic.
First Monday of the month starting from 8th January 2018 – Youth Theatre Lab, 4-6pm. The Youth Theatre Lab is about developing the skills to make theatre that has something to say. The YTL will be a place of experimentation – we will collaborate with highly experienced theatre practitioners, choreographers, visual artists and composers to develop important work by and for young people.
Follow and support our campaigns on social media:
Twitter – @SpeakersCornerC
Facebook – Speakers Corner Bradford
#iamperfectasme
Our address is :
Speakers Corner, 4 Ivegate, Bradford, BD1 1PU, in between KFC and BetFred