10 days in the life of Speakers Corner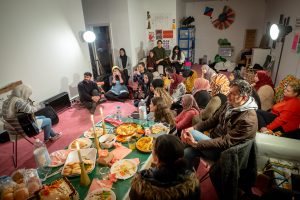 In 10 days we did all this!!
5th March– Mental Health First Aid Training led by See Inside Me Campaigners and Zakia
8th March – Sajidah & Nafisa, speaking at International Women's Day at Bradford City Hall
9th March– Khizra, Mariyah, Sajidah, Zara, Mahnoor, Sabahat, Scout and Haniyya, Million Women Rise March, London
9th March– Sabahat, Scout and Haniyya speaking at WOW London, Royal Festival Hall
11th March – Iram, Mehmoona, Scout, Madeyah, Jaasra, Rosema on BBC We Are Bradford – BBC News Baby!!
12th March– Everyone (!) – Speakers Corner Big Reveal Meal & new hoodies & totes 
14th March – Launch of Peaceophobia at Above the Noise, National Media Museum with exhibition text written by Iram
Blog by Sabahat Rani
Speakers Corner is not only a space that organises amazing events, panels and workshops to celebrate the achievements of women over time but a safe space where young people can unite to talk about a widespread of international issues and taboo concepts in society. It is one of the few spaces that fights for women equality rather than for the superiority and dominance of women over men. This is why our space has a mix of genders from a variety of backgrounds all working together to unite and empower women all around the world and to help them achieve a sense of freedom and togetherness.
My own experiences of being a part of this social space has opened my eyes to the power common people, especially the youth has in changing people's views, widening their knowledge and changing the society in which they live. Being a passionate 18 year old teenager who has always been driven by the concept of changing the world I was lucky enough to take part in and help organise mental health workshops and introduce new plans for the upcoming year in the life of Speaker's Corner through a reveal meal. Just the coming together of young people who were all wanting to work towards a main goal gave me a sense of motivation in what i was doing and allowed me to meet all sorts of women from different backgrounds fighting for different change but bound together by the idea of women empowerment.
Mental health being on the rise over recent years yet ironically being a topic that is not talked about enough or avoided gave us a chance to talk about things affecting the people in our society who may be suffering silently, as one of our main purposes was to give out the message that no one is alone in the fight, especially when it comes to mental health.
On a wider spectrum I also took part in WOW London which was life changing as it was so empowering and motivating to see women from all over the world coming together and empowering one another simply through their experiences and words of advice. Personally for me, it made me realise that change is not always action but it can be as little as words that in reality hold so much weight and power.
My favourite experience of being able to take part in WOW London was being a part of "Million Women Rise" which was a March organised and led by Black women. It was inspiring to see women of an ethnic minority coming together and encouraging women to stand up for what they believe in.
One powerful message that was on banners that many women held was: "We demand equality freedom justice." The imperative tone that was represented by such banners gave solidarity and unity to everyone taking part in the march. It was also shocking to see so many women coming together for one cause. This inspired me to carry on doing what I believe can potentially change the world.
Speakers Corner has allowed me these opportunities and opened my eyes to the power that even I, an asian young woman has to change the world of the people around me for their betterment and freedom.