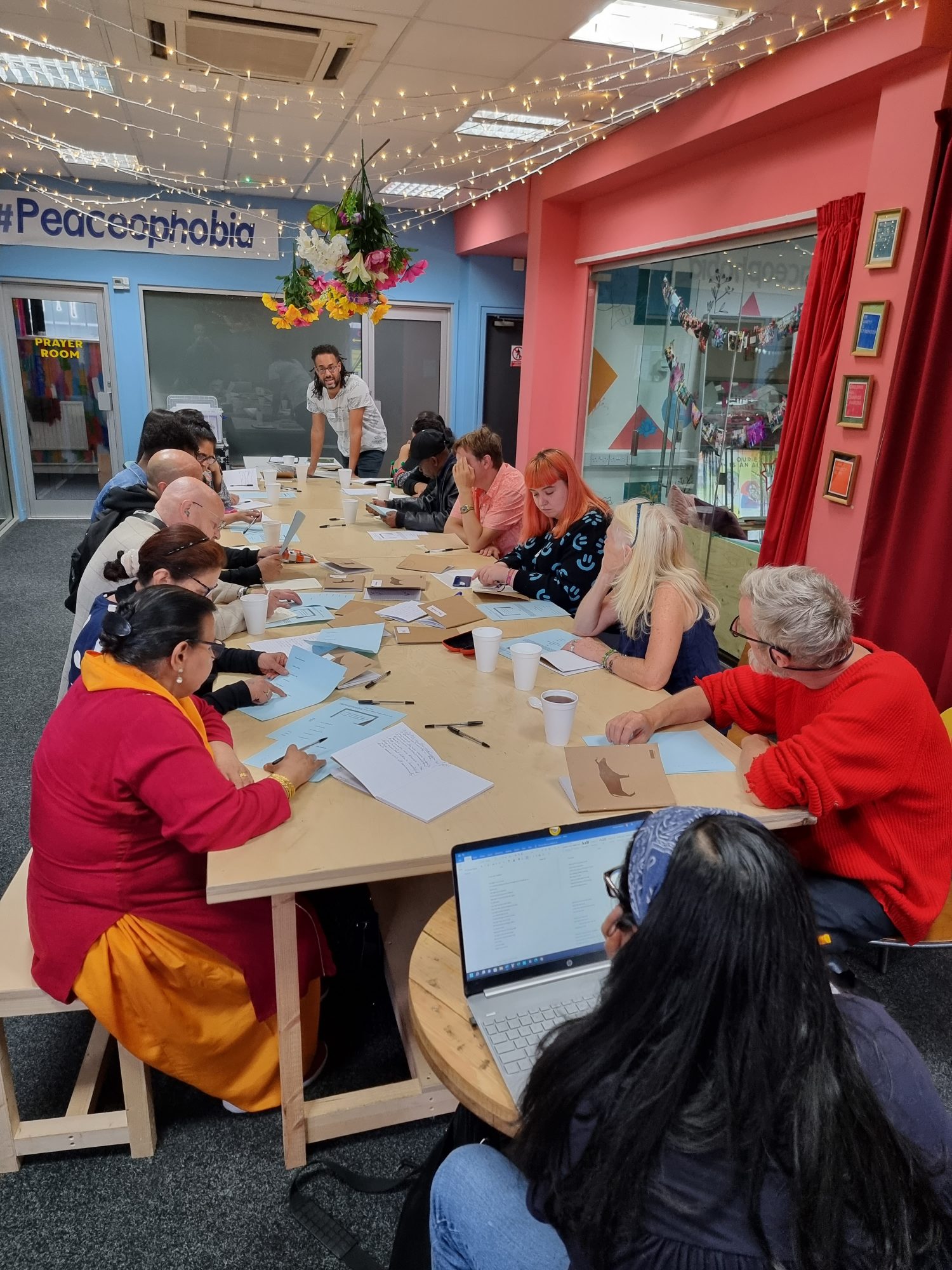 Change The Word
Info
Change The Word
We collaborated with the fantastic Good Chance Theatre to bring Change the Word to Bradford in autumn 2022! The project consisted of weekly sessions to meet and write poetry, eat together, spark ideas and share those ideas with the world through a poetry anthology and a poetry performance.
THE PROCESS
Change the Word was open to all, from people seeking sanctuary to people who have lived here all their lives. The project launched with a Welcome Meal in August 2022 and ran to December 2022.
The group joined us to discover, write, meet friendly new faces and have their voices heard! Taking part in inspirational weekly writing and performance workshops, forging new connections, sharing food and being creative together. The work of the Change the Word group was showcased in a professional poetry anthology and a poetry performance.
Participants were welcome to write and perform in their own language and is open to all but particularly welcomes people seeking sanctuary. Support with childcare and travel costs was available to all.
Poetry & Performance Night: Mud, Water and Magic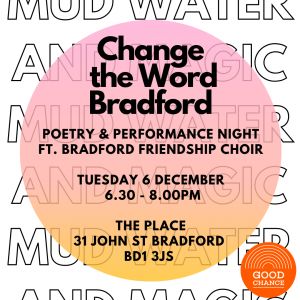 The night of ensemble performance poetry by Bradford based sanctuary seekers & locals, took place in December 2022. Where an audience of friends and family joined us for an evening of sharing, storytelling and the launch of the groups Change the Word Bradford anthology.
We were also very luck to share the evening with the extremely talented Bradford Friendship Choir, who invited the audience to join them in their passion for singing.
The event took place in Displace Yourself Theatre new space; The Place.
Credits
Mud, Water & Magic Ensemble:
Adam Deacon, Ahlam Dukhkhani, Ahmad Saied, Alison Holloway, Esha Saghir Din Arbab, Iman Saghir Din Arbab, Josie Gale, Mariyam Karolia, Mussarat Rahman, Mustafa Husseini, Nicholas Howard, Noor Jahangir, Philip McCowen, Ricardo Lutomawa Kindoki, Shamim Akhtar, Sue Balcomb. Supported by: Bradford Friendship Choir.
Change The Word Bradford Team
Director & Writer – Saoirse Teale
Writer – Sai Murray
Producer – Ezra Nash
Set Design & Visuals – Michelle Wren
Composer – Elliot Mann
Tech & Audio Support – Ben Burnside
Set & Production Support – Kazem Ashourzadeh
Good Chance Team
Dina Mousawi, Connie Treves, Diyo Mulopo Bopengo
Supporters
Arts Council, Esmee Fairbairn Foundation, Bertha Foundation, Displace Yourself Theatre, Emily Webb, Amir Hussain Ibrahimi, Bradford Immigration & Asylum Support & Advice Network (BIASAN), City of Sanctuary, Horton Housing, Bradford Refugee Forum, Millside Centre, Bradford 2025, Bradford Producing Hub, Jack King, Nathan McGill, Raven Staging.