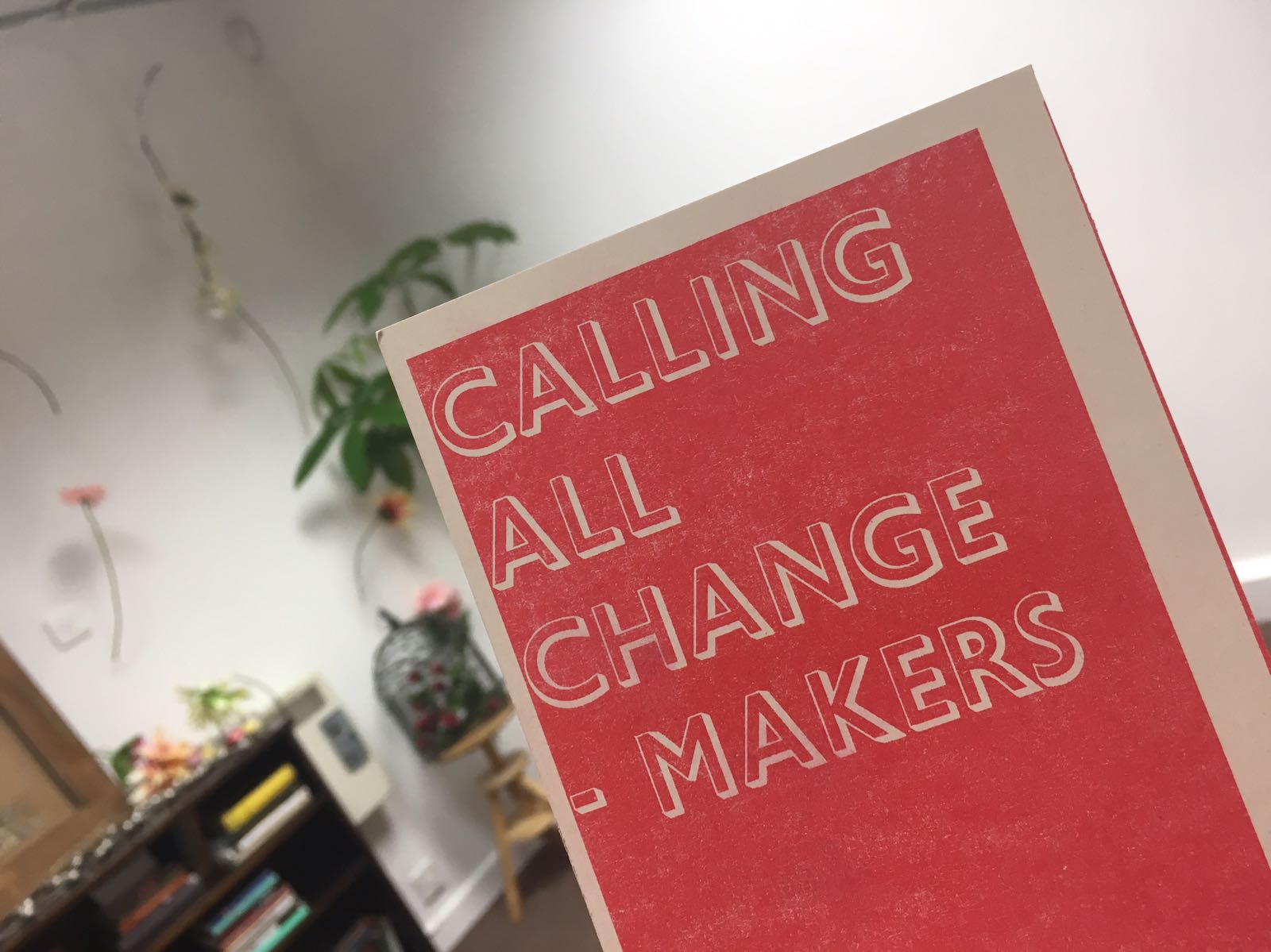 Common Space
Common Wealth have a new building in Bradford! The space is set to open in June 2021, and will be open to all – artists, community groups, activists, theatre companies, young people. We want the space to be a public, shared, common resource.
Common Space will house two small theatre stages with sound and lighting rigs, a music studio ran by All Stars Entertainment, exhibition space, a big workshop table for banquets and banner making, meeting spaces, a prayer room, a rehearsal room and the new home for Speakers Corner. Please watch the walk-through tour video & read the call out & FAQ's for more info on plans. The building is being brought to life by the very talented Production Manager and Maker/Designer Matt Sykes-Hooban who we are very excited to be working with.
Call Out for ideas!
PEOPLE PROGRAMMING 
Common Space is a new performance, music, arts and community space for Bradford City Centre. We want the programme of what takes place in the building to be decided by what the people of Bradford want to see happen and experience. 
Your ideas 
We will be opening three evenings a week (Wednesday – Fridays) and on weekdays from Mondays – Wednesdays. We are looking for people and groups to animate our space and bring it to life with ideas they might have for Bradford. You might be an activist group who wants to run a film night, a young person who wants to put on a gig, an artist who wants to run a comedy night, a community group who wants to run an open mic – or anybody and anything in between! You might have an idea that is new and untested and you want to see if it works or you might be an existing group that is looking for a new space to meet and play. 
Practicals, times, days and spaces
We are planning to open to the public from the 21st of June 2021, dependent on the Road Map and government guidelines at the time. We will be open on Wednesday, Thursday and Friday evenings between 5pm-9pm and for evening usage, we want to book people into slots – either between 5-7pm or between 7-9pm. 
The space will be available to use on daytimes from Monday-Wednesday between 10am and 3pm. We do not have funding and staffing to be able to open Common Space on more days or on weekends at this first stage.
You will either book the whole of the downstairs area (including the stages, big table area and welcome space) or the rehearsal room upstairs for your slot.
What we can offer 
A free, flexible space 

Light and sound equipment 

A Duty Manager to support the opening up/locking up of the building and support with setting up technical equipment like lighting and sound. The Duty Manager will also be First Aid Trained, a Fire Marshal and aware of Covid-19 procedures 

Risk assessments for the building and use of space 

Support with marketing of your event through our social media channels 

You can ask participants/audience for a donation towards your event and keep box office income to contribute to your work 
What we ask for 
A signed users agreement which will have a lead contact info and space for you to tell us in advance what tech / room setup you need

A donation towards cleaning and maintenance which will help us to run Common Space for the long term future – a suggested donation is £20 per session but if you do not have funding and cannot afford this, please do not worry – the space is there for you to use for free

To follow all our risk assessments and Covid-19 procedure 

To always leave the space as you found it (or better!) 

To see Common Space as a shared community resource and to be mindful and respectful of everyone they meet in it. 
Register your interest in using Common Space
This is the first stage of us discovering what the people of Bradford want to see happen. If you are interested in using Common Space please fill out the Common-Space-Expression-of-Interest-Form by 24th May 2021. We want to understand practical needs so we can try and accommodate everyone we can. We have 6 evening slots a week available and will try and make sure these are allocated to as wide a range of people and needs as possible. We want the space to be used by community groups and young people as much as by artists. 
Please see the walk-around video tour, Available Spaces at Common Space document and FAQ's below with more practical info for any questions you may have.
If you have any questions or would like a tour of Common Space please contact Common Space Coordinator Sajidah Shabir on [email protected]
FAQ'S
What are the rooms like? Please see the Available Spaces at Common Space document for details on each space.
How do I find you? Our address is John Street, Bradford, BD1 3SR. We are on the corner diagonally opposite Jean Junction, across the road from Highpoint and on the same side of the road as Oastler Market, Mean Old Scene and Plant One On Me. 
What are the trains/buses? We are a nine minute walk from Forster Square Train station and an eleven minute walk from Bradford Interchange. Bus routes 617/618 stop on Westgate, around the corner from Common Space. 
Where can I park?
1] Oastler Market Car Park (off Westgate,BD1 3SR) 50p an hour, with a maximum of 3 hour stay 
2] Manor Row Car Park, (Grammar School Street, £3.00 for 24 hours) 
What is access to the building like? We have a small lift and a disabled toilet on the first floor. Unfortunately as the building is a Meanwhile space the lift is an old lift with small dimensions and we are sorry to say it does not accommodate a large wheelchair. The lift dimensions are max door width 74 cm, max depth in the lift is 90 cm. 
There are disabled toilets available in Oastler Market available from 8:30am-5:00pm Monday to Saturday. We have a ramp to ensure wheelchair access to stages. We will do everything we can to accommodate all access needs, so do talk to us about any you may have. We want to work to find solutions together so that there are no barriers, physical or psychological, to using this space. 
How about toilets? We have bathroom facilities available for everyone. There are facilities with and without urinals, as well as a disabled bathroom.  We encourage people to use the bathroom in which they feel most comfortable and to keep in mind the needs of those with disabilities. 
Do you serve food, drink or alcohol? We do not serve food or drink, you are welcome to bring in your own food and drink, but we do ask that you are responsible for cleaning the place after and disposing of any food or drink waste in the street bins outside. We have a no alcohol policy within the building, this is to ensure the space is as welcoming to as many as possible. Please be aware that as Common Space is a Meanwhile Space we do not have water available on the ground floor and only have access to water in the bathrooms.  
Is there prayer facilities? We have a prayer room on the ground floor which is open for all to use. This is a private space with a curtain across the glass door. We have prayer mats available for you to use and you are welcome to bring your own. You are able to use the bathrooms to wash before prayer and we will provide a lota in each bathroom. It is a multi-faith prayer room open to all, please let us know if there is anything you need. 
How can I get in touch?  The best thing to do is email Sajidah on [email protected]