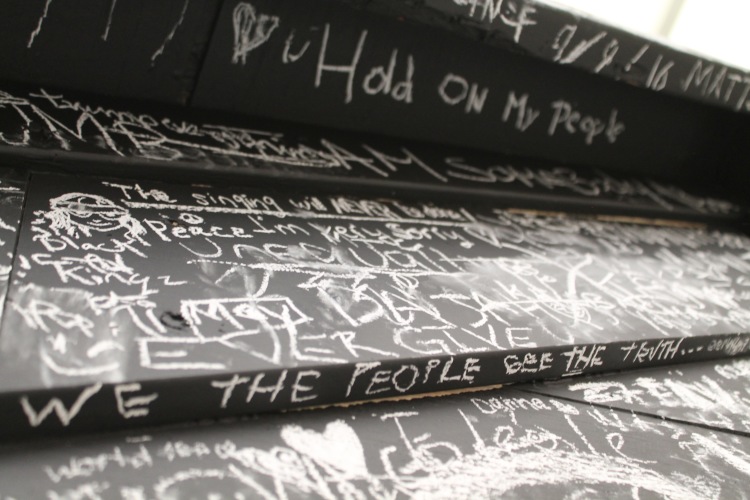 Theatre-Maker & Financial Mentoring
Info
Theatre-Maker & Financial Mentoring
Theatre-Maker & Financial Mentoring 
Common Wealth offer theatre-maker & financial mentoring to support early career artists and theatre companies with their creative development and confidence in financial or administrative processes.
Theatre-Maker Mentoring 
Have an idea for a performance and want some help developing it or some support to think about your creative practice and how to develop your theatre-making process and approaches? Want to think about how you co-create with people outside of the 'theatre world'? Co-Artistic Director of Common Wealth Evie Manning will mentor 4 artists/companies a year with 3 sessions a year each. These sessions could be a conversation or could be more of a workshop approach to try out ideas in the rehearsal room at Common Space in Bradford. Email [email protected] with either a one page written summary or a short two minute video about you and why you would like to apply for theatre-making mentoring.  
Financial Mentoring 
Need some support as a small company or freelance artist to understand your accounts and financial processes? Do you need some help pulling together the financial aspects of your business plans, your organisational budgets? Or might you want to explore whether you could claim Theatre Tax Relief on any of your shows?  Company Manager of Common Wealth, Tracy Basu, will mentor 4 individuals or organisations per year with ongoing support tailored to their specific needs and circumstances. Meetings can take place in person at Common Space in Bradford or on Zoom. Email [email protected] with either a one page written summary or a short two minute video about you and why you would like to apply for financial mentoring.
All mentoring is free and is part of Common Wealth's offer towards strengthening Bradford's cultural ecology. 
ABOUT US 
Evie Manning
Evie is co-director of Common Wealth which she co-founded with Rhiannon White in 2008. Alongside directing shows with Common Wealth Evie has created and directed work with Manchester International Festival, Tamasha, Royal Exchange, Battersea Arts Centre, Contact Theatre, Manchester Histories and Transform Festival. Evie is a co-founder at Speakers Corner and programmed the 2016 Women of the World Festival in Bradford. Prior to Common Wealth Evie worked as a museum educator developing art and theatre approaches with young people and museums and worked with the National Maritime Museum, Houses of the Parliament, The Understanding Slavery Initiative, the British Empire and Commonwealth Museum and the London Transport Museum. Evie has worked at lots of different scales, from completely DIY to working with significant budgets and is adept at making money go far. Evie has worked extensively collaborating with people who are new to theatre and from lots of different backgrounds and perspectives, from steelworkers to boxers. Evie's key artistic interests are in site-specific, immersive and multi-disciplinary ways of working and is always happy thinking and bouncing ideas around to make experimental politically engaged work. 
Tracy Basu
Tracy Basu is Company Manager at Common Wealth.  She joined in April 2018 when Common Wealth become an Arts Council England National Portfolio Organisation for the first time.  Tracy is a Chartered Accountant (ICAEW) by profession with more than twenty years experience of working in the leisure and cultural industries in the private, public and third sector. Over the last ten years, she has particularly enjoyed working in social enterprise and the arts alongside creative individuals and using her finance and strategic skills to be part of teams delivering social change.  Prior to joining Common Wealth, Tracy held the following roles; Group Financial Accountant at Cannons Health & Fitness (now Nuffield Health), Senior Management Accountant at Leisure Connection, CEO at Leeds based Bramley Baths and non-exec director at HEART (Headingley Enterprise and Arts Centre).  Tracy also ran her own accountancy business for five years while bringing up a young family.  It is this broad mix of experience and desire to work within communities and with creatives, that she will bring to the mentoring relationship.