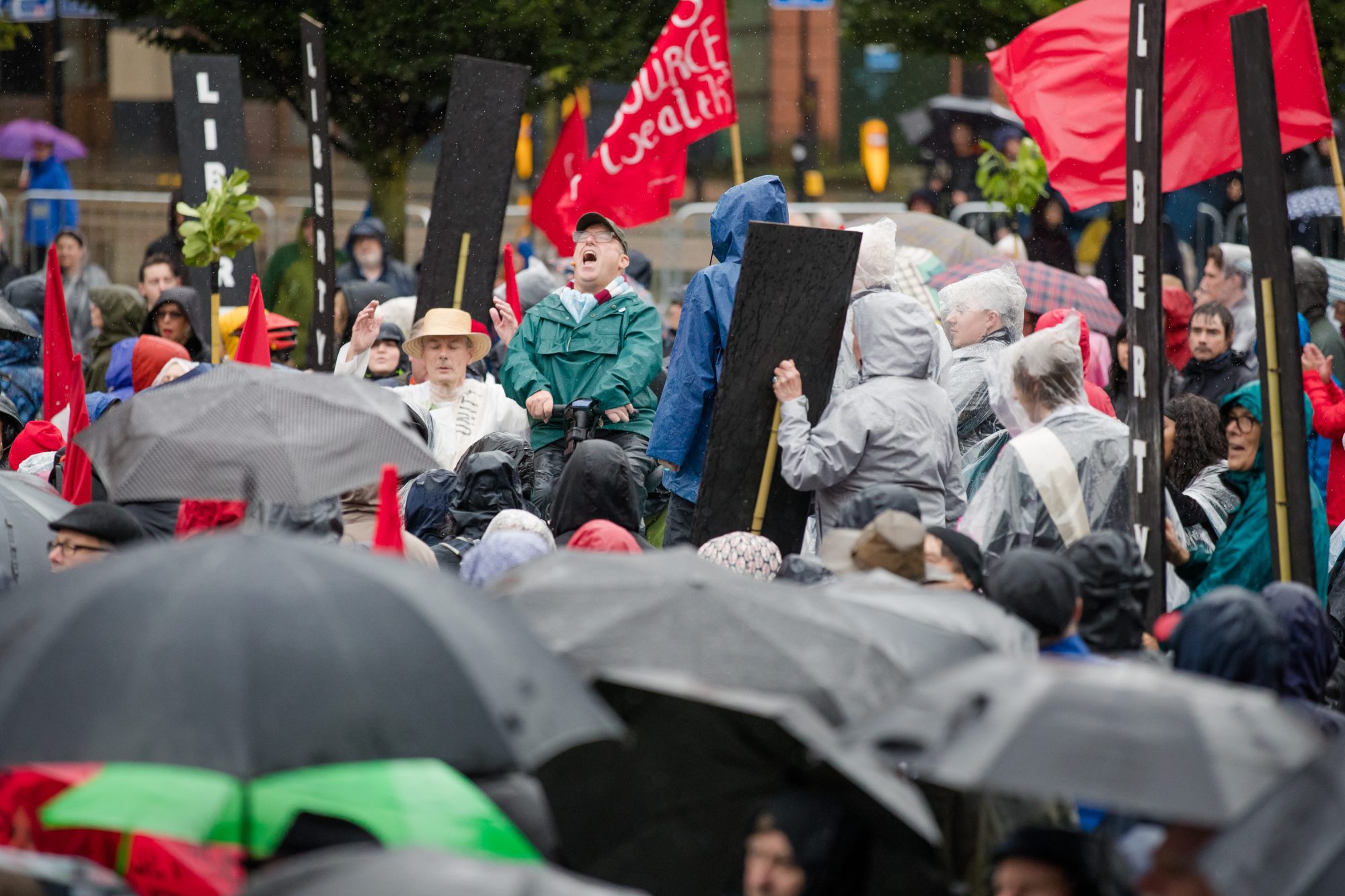 From the Crowd
On 16th August 2019 thousands of people gathered to honour the 200th Anniversary of the Peterloo massacre as part of From the Crowd
From the Crowd was a powerful, inclusive, immersive experience. The eyewitness accounts of those present at Peterloo 1819 and the words of contemporary protesters were woven together and performed by activists, poets and – importantly –  the 800 strong crowd.
Collectively they voiced a picture of what happened on 16 August 1819 and the change people wanted to happen in 2019. At times a single voice was heard; at times hundreds of voices amplified the story and charged the atmosphere, connecting the legacy of Peterloo to what it means today.
The piece was scored by two drummers, a brass section, two choirs and 5 beatboxers with musical direction from Robin Richards, Katie Chatburn, Oliver Vibrans and MC Zani and created an epic sound score of protest, urgency and heart.
"Director, Evie Manning delivered a visual treat that made our hearts swell with pride and break in heartache within beats of each other. Evie also demonstrated how to be a true ally of disabled people" Disability Arts online
"Thousands gather for 200th anniversary of Peterloo Massacre" with video on Channel 4 News
"Moving and emotionally charged, comparing the grievances that drove people to protest at Peterloo with modern injustices, and a fitting way to remember what happened." on BBC News
Public re-enactment to mark 200th anniversary of Peterloo massacre, in The Guardian 
For more information, press and photos please see Manchester Histories 
Partners
Directed by Evie Manning (Common Wealth),  musically directed by Robin Richards (Dutch Uncles) and written by eye-witness accounts of Peterloo and campaigners from across Manchester including These Walls Must Fall, Greater Manchester Housing Action, The Monument to Discrimination, Invisible Cities, Climate activists and queer people campaigning against the capitalism of Pride.
Co-commissioned by Manchester Histories and Manchester City Council. Co-produced by Manchester Histories, Walk the Plank, Brighter Sound and Manchester City Council. Supported with funding from Manchester City Council, Arts Council England and The National Lottery Heritage Fund.