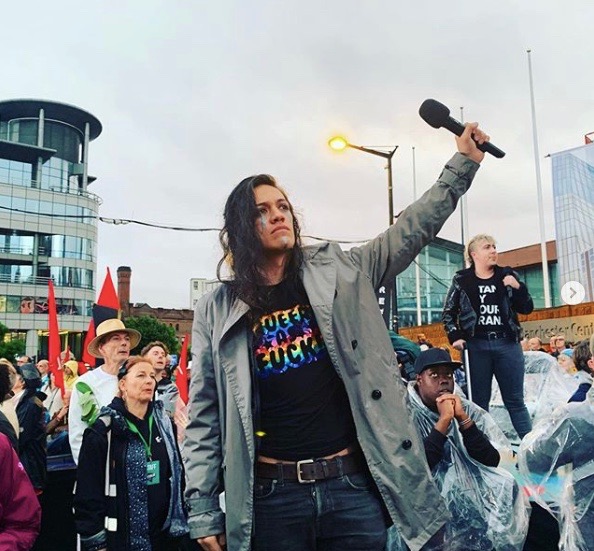 From the Crowd
Part of the Peterloo 2019 Anniversary Weekend
Date: Friday 16th August 2019 | 12.30pm (sold out), 5.30pm & 8pm (Duration: 1 hour)
Location: Manchester Central, Windmill Street, Manchester, M2 3GX
Tickets: FREE and can be booked here
From the Crowd is a powerful, inclusive, immersive experience. The eyewitness accounts of those present at Peterloo 1819 and the words of contemporary protesters and poets have been woven together to create a powerful piece, that with no spectators only participants, will come From the Crowd.
Collectively they will voice a picture of what happened on 16 August 1819 and the change people want to happen in 2019. At times a single voice will be heard; at times hundreds of voices will amplify the story and charge the atmosphere, all connected to the legacy of Peterloo and what it means today.
Each one-hour performance will be punctuated throughout the day with song, poetry, choirs and more in the form of Rebel Karaoke. At 1.30pm listen to the traditional reading of the names of those who died at Peterloo, followed by 18 bells ringing out across the city.
Suitable for all ages. Standing, with an accessible viewing area – please contact Manchester Histories with any access needs
Partners
Directed by Evie Manning (Common Wealth),  musically directed by Robin Richards (Dutch Uncles) and written by eye-witness accounts of Peterloo and campaigners from across Manchester including These Walls Must Fall, Greater Manchester Housing Action, The Monument to Discrimination, Invisible Cities, Climate activists and queer people campaigning against the capitalism of Pride.
Co-commissioned by Manchester Histories and Manchester City Council. Co-produced by Manchester Histories, Walk the Plank, Brighter Sound and Manchester City Council. Supported with funding from Manchester City Council, Arts Council England and The National Lottery Heritage Fund.