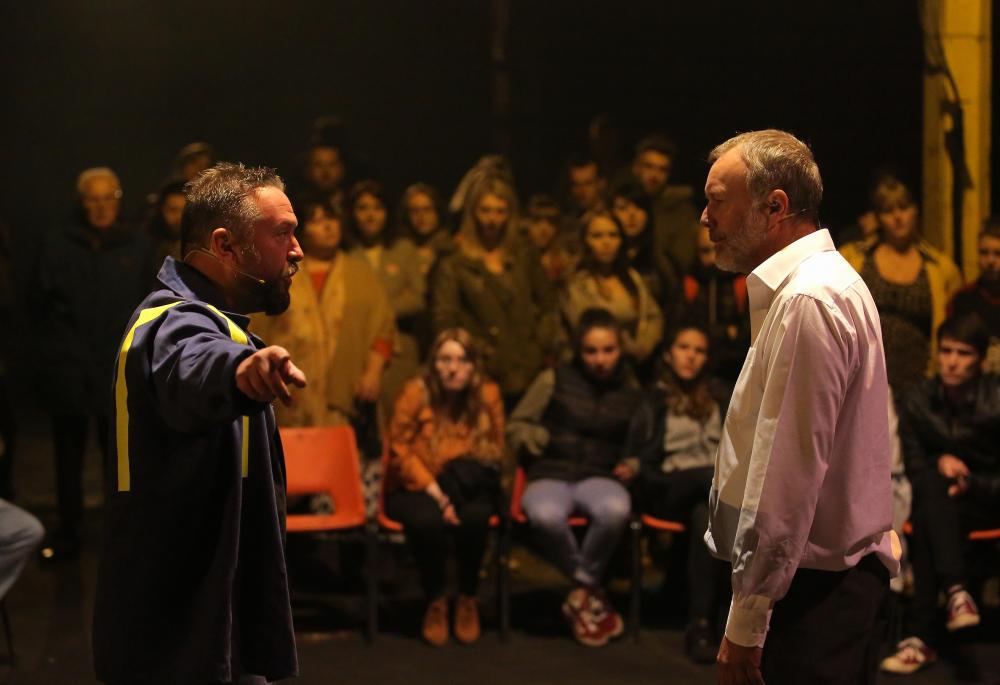 We're Still Here
Info
We're Still Here
15 – 30 September, 2017, Port Talbot
National Theatre Wales & Common Wealth written by Rachel Tresize and the people of Port Talbot
It gives you a funny feeling, right here in your solar plexus, when people come together to speak up for themselves.
We're Still Here was a play inspired by – and featuring – the people behind Port Talbot's 'Save Our Steel' campaign
Port Talbot steelworks, one of the last heavy industries in Wales, where generations of steelworkers carry their craft.
Marking National Theatre Wales' return to Port Talbot, along with Common Wealth, We're Still Here explored the experiences and stories of the people behind the politically-charged headlines.
#NTWSTEEL
In 2018 We're Still Here won a Nesta New Radicals Award.
Reviews
We're Still Here gives a voice to that terror, reminding us of a huge story that's still worth retelling
The show comes laced with music and a rich earthy humour as it celebrates the heart and solidarity of the people of the town quietly and without sentimentality
…Common Wealth and NTW have given Port Talbot the play these heroes deserve
Articles
"The story of our fight': Port Talbot steel workers star in play about shutdown'
"Steelworkers tread the boards in a show about their fight to save their jobs"
"Play captures drama of Port Talbot steelworks battle"
"Welsh noir: How Port Talbot became the drama capital of Wales"
"An immersive play inspired by – and featuring – the people behind Port Talbot's 'Save Our Steel' campaign"
"2018 New Radicals: Michael Sheen introduces this year's winners"
2018 New Radicals: Michael Sheen
"This was ambitious theatre capturing the bittersweet reality of life here"