Us Here Now – An interview with mum & photographer, Rhian Gregory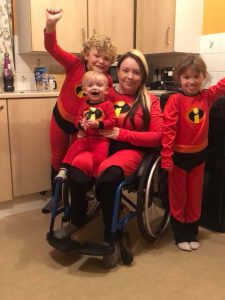 Can you introduce yourself? Who you are, where you live, what your passions are?
Shwmae! Hello! I'm Rhian Gregory and live in St Mellons Cardiff. I'm a mum to three young children, and also known as 'mum on wheels' as I use a wheelchair. I love a bit of everything ranging from adapted sports such as sailing, to reading, spending time with friends and family, playing the flute and piano, and so much more! I occasionally document what we get up to on my blog or on social media. My motto for life is to live life to the full to the best of my ability.
What drew you to Common Wealth? and the Us Here Now project?
On social media, I came across Jon Pountney photographs, which mentioned he was working with the Us here now project. I decided to email Jon and he put me in touch with the Common Wealth. I was particularly interested because the project is about celebrating the people and community of East Cardiff. All areas, particularly some, there can be a stereotypical focus on more of the negative rather than the positives. I've always been passionate about the area we live in. Examples include keep St Mellons tidy, litter picking, and playing the flute for residential nursing homes.
Can you tell us about your photography? What drew you to take photographs? 
For me, photographs capture a moment in time. A snapshot to look back on, bringing a memory to life. Whether it's the delicacy of a blade of grass covered in ice, or landscape photos of a favourite beach, or family photo.  Sharing the beauty of our world with others, to inspire, to open them up to something they haven't seen before, or something they could relate to. It's also fascinating how photography works.
What can you tell us about Cardiff East that no one else knows?
I'm sure a lot of locals know about Hendre Lake. It's one of my favourite places. I've taken quite a few photos of here and when I post them a lot of people have asked where is this beautiful place!  I particularly like visiting of an evening, either just to chill and think by myself or take my children out for a walk and watch the incredible sunsets. What can you tell us about yourself that no one would know? I'm interested in learning a new language, probably Japanese because I love the culture and concept of life.
What's your top tip for surviving lockdown?
Lots of tips! Get your creative side out, whether it's making cards, colouring, or something completely new like making jewellery with resin. Check on your neighbours, chat to them over the fence. Get closer to nature! Whether in your own garden, or on your local daily exercise walk. We put a clear bird feeder on our window and saw so many birds. It was fascinating for the children too to learn & identify different ones. At the beginning of lockdown I was so enthusiastic I even made my own sitting down exercise video for people who can't stand and exercise. Online shopping was my best friend for food & birthday gifts! Remind yourself you can only do your best! Don't be too hard on yourself!  Have those days of all staying in your PJs and watching films!
What have you learnt about yourself during lockdown?
It's reminded me to be appreciative and thankful of what I have. Of course, there are many things I've missed doing, and been disappointed about,  but I made the most of what we had available to us in the moment.
What do you want people to know?
There are many many testing challenges thrown to all of us. We never know what each one of us is going through. We shouldn't judge, be kind to each other, reach out to others in your community. Share ideas, listen to each other and support one another.
Photographs by Rhian Gregory