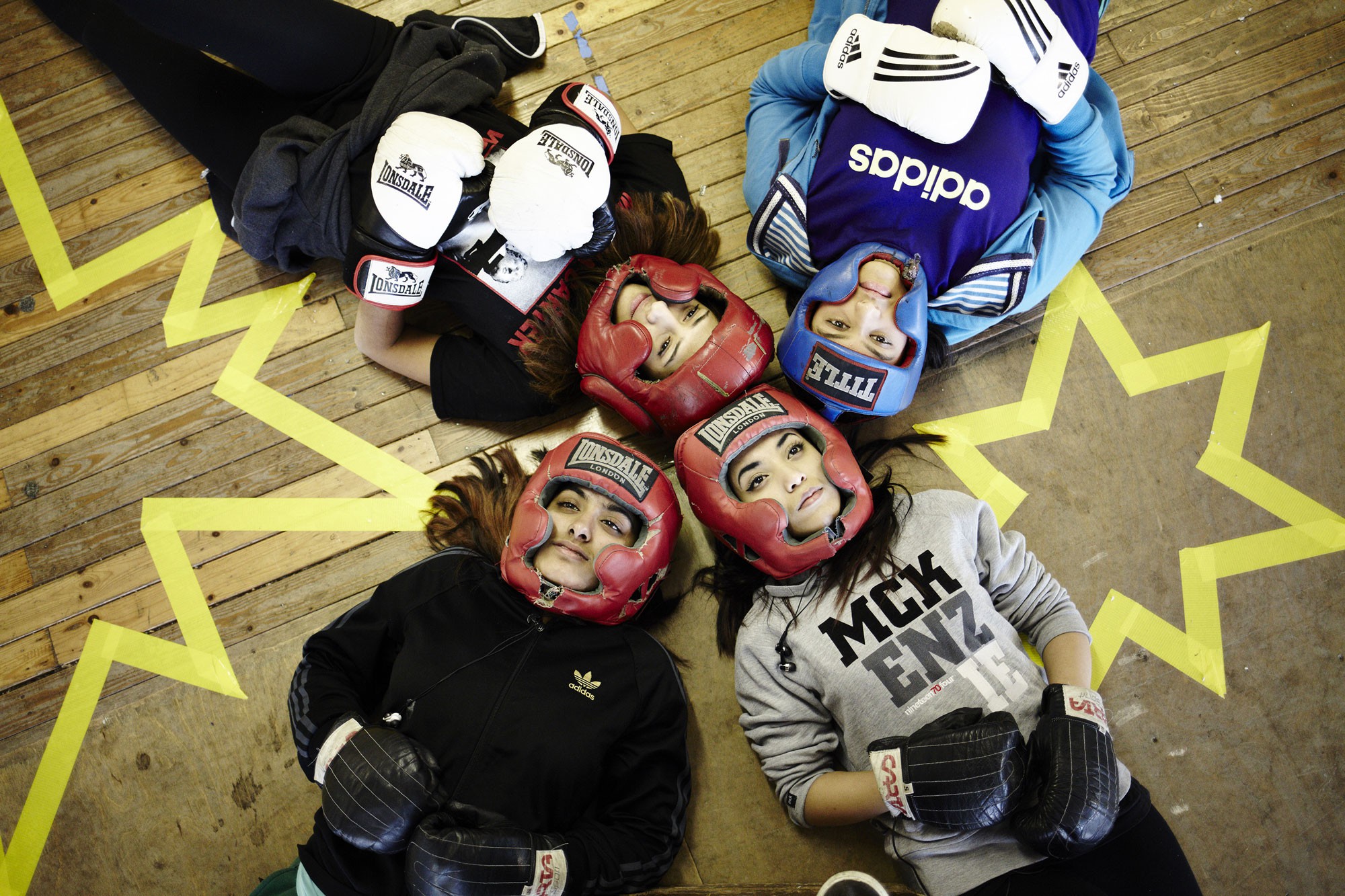 No Guts, No Heart, No Glory
Info
No Guts, No Heart, No Glory
No Guts, No Heart, No Glory is based on interviews with Muslim female boxers including two National Muslim female Champions in Bradford, Saira Tabasum and coach, Ambreen Sadiq. Our young cast came through an audition process in Bradford schools, most had never performed in front of an audience before we went to Edinburgh festival in 2014. Since then the play has won a Scotsman Fringe First Award, toured the UK and toured internationally.
The cast of five shaped the play based on their experiences, their insight and what felt right, what we all wanted to say. During our rehearsals, Israel started their offense on Gaza, some of the actors started going to protests. The crisis in Gaza was a stark reminder as we made the play, to be brave in our own lives and to be brave on a wider, international level, to be proud of where you come from and who you are, it began to feel more and more like a protest play, not one where we say 'no', but one where we say 'yes'. Muslim young women are rarely represented in the media, No Guts, No Heart, No Glory is a chance for Muslim young women to represent themselves, to dance, to box, to swear, to get angry, to enjoy it, to be champions.
Reviews
"Full of sweaty, sweary joy at the sheer possibilities of life"                          The Guardian
Powerful and triumphant … a celebration of the human will that transcends religion and gender  The Independent
"An irresistible thing about muscle, guts and the determination to stand up for who you are in an increasingly mad world." Herald
"A theatrical experience to remember; raw, heartfelt, blazing with energy and sometimes absolutely beautiful"  The Scotsman
Articles and Press
'Bradford's Muslim women boxers enter the ring', Guardian G2, 12th August 2014
'Extremism fight is battle for all', Joyce McMillan, Scotsman
'Not just for boys': Muslim women take new play about female boxing to the Edinburgh Fringe,' Independent
'Women are squaring up to beat stereotypes in the ring,' The Herald
Muslim Female Boxing Show Set for Edinburgh Fringe', Scotland on Sunday, 6th July 2014
First Person Interview: Ambreen Sadiq, Financial Times, 3rd August 2013
Female Boxers take to the stage, Asian Express, October 2013
Pick of the Fringe
Radio Times: No2 Things to see at Edinburgh
Scotsman: Top 10 pick of the Fringe
The Times: Top 10 Theatre to see at Edinburgh Fringe
Videos
BBC LOOK NORTH:
Interview with Ambreen Sadiq, Evie Manning and actors
Radio
Dates
No Guts, No Heart, No Glory was screened live on BBC4 on Sunday 15th November 2015.
No Guts, No Heart, No Glory toured to Sandy's Gym, Edinburgh (2014), Bradford Police Boxing Academy (2014), Moss Side Fire Boxing Gym in Manchester (2014), Birmingham Rep (2015) Southbank Centre as part of Women of the World festival (2015) Helsinki as part of Kiasma's URB festival (2016) and Perth International Arts Festival in Australia (2016)
Credits
Cast
Seherish Mahmood, Freyaa Ali, Mariam Rashid, Nayab Din, Saira Tabasum
Writer, Aisha Zia
Director, Evie Manning
Associate Director, Rhiannon White
Boxing Coach and Script Consultant, Ambreen Sadiq
Choreography by Imogen Knight, Additional Movement by Kate Sagovsky
Production Design, Alice Hoult
Sound Design, Wojtek Rusin
Film, Jack King
Writer's Assistant, Pippa Dey
Photography by Christopher Nunn and Sophie Gerrard
Co-produced by Contact and funded by Arts Council England, Scottish Government, Neighbourhood Partnership (Portobello and Craigmillar), Foundation Scotland, Theatre in the Mill, Bradford Council and Contact.