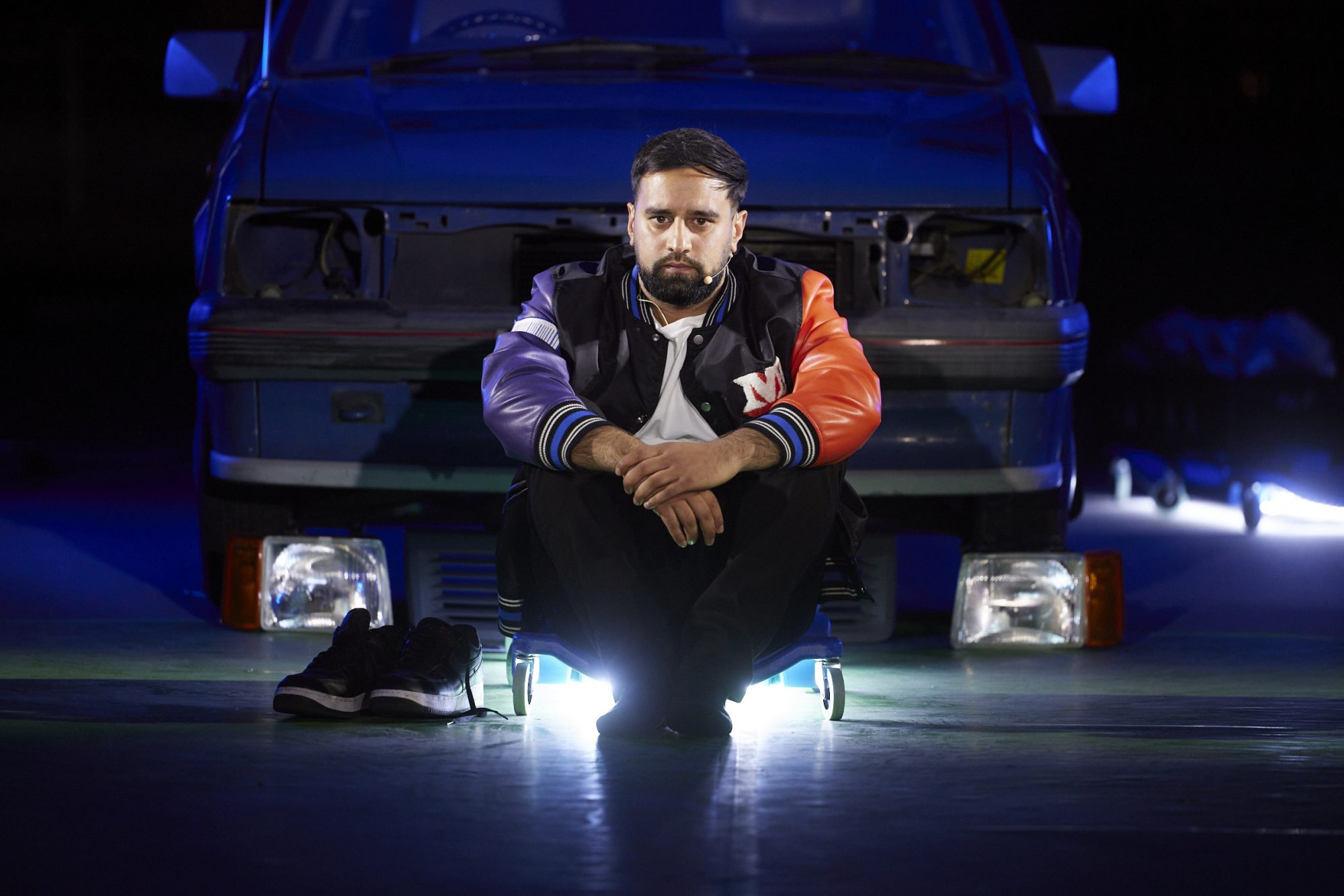 Peaceophobia
If 'Islam' comes from 'peace', how can you fear peace? 
Peaceophobia is an unapologetic response to rising Islamophobia around the world. Part car-show, part-theatre, the show asks how do you find peace in a world that tells you who you are? 
Growing up in the shadow of the Bradford Riots, 9/11 and police harrassment, cars and faith are a sanctuary, an escape, an expression for three Muslim Pakistani men. Ali, Sohail and Casper are taking control of the narratives around their religion, their city, and their cars. 
Staged in a car-park with a Supra, a Golf and a classic Nova, Peaceophobia brings together cars and theatre with cinematic lighting and an electronic sound score.  
Co-directed by young women from Speakers Corner, a political, social collective based in Bradford and award winning theatre company Common Wealth, co-written by acclaimed playwright Zia Ahmed and Bradford Modified Club, a co-production with Fuel.
Winner, Best Stage Production at The Asian Media Awards
 "A testament to vulnerable, collective storytelling … a powerhouse piece with beautiful vulnerability" – The Stage
"Infectious, compelling and moving, each part of the story takes us a little further into their world, their passions and the sense of injustice" – Morning Star
"An important piece of theatre that uncovers the very real dangers that the misunderstanding and mistrust of communities can foster. " – Fest Magazine
"An arresting human core … fast cars, dizzying theatrical devices and pounding beats, Peaceophobia counters prejudice with stories of humour, passion and belief" – The Skinny
"Delivers a clear and resonant message … It is also about friendship and family, about music and laughter, about the importance of faith, about how modifying a car is a hugely creative, collaborative act. There is a lot of joy here" – The Yorkshire Post
"Asks us to see beyond the noisy engines and throbbing bass from the sound systems to really see the people behind the wheel" – North West End
Creative Team
Performed by Mohammad Ali Yunis, Casper Ahmed, and Sohail Hussain
Written by Zia Ahmed with Mohammad Ali Yunis, Casper Ahmed, and Sohail Hussain
Directed by Evie Manning, Iram Rehman, Sajidah Shabir, Rosema Nawaz, Mariyah Kayat, Madeyah Khan and Maleehah Hussain
Designer – Rosie Elnile
Sound Designer & Composer – Wojtek Rusin
Partners
Co-created by Bradford Modified Club, Speakers Corner Collective and Common Wealth. Co-produced by Common Wealth and Fuel
Peaceophobia is supported by Bradford 2025, Blueprint: Without Walls R&D Investment Fund, Co-Creating Change, Arts Council England, Paul Hamlyn Foundation, Pears Foundation, and Fenton Arts Trust.
Want to find out more? Read the full Digital Programme online.